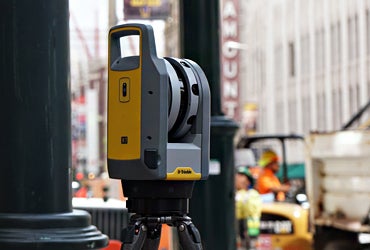 The X7 is the first 3D scanner to provide an auto-calibration routine to ensure data accuracy, eliminate downtime from annual calibration service, and provide a lower overall cost of ownership.
With Game-changing innovations such as automatic calibration and Trimble Registration Assist, you can count on the X7 for guaranteed performance and accuracy so you can leave the site with total confidence in your data.
The Trimble X7 is the right blend of innovation and performance like survey grade self-leveling and an IP55 rating. Plus, it's backed by an industry leading 2-year warranty.
It's never been easier to break through traditional barriers of scanning. The Trimble X7 combined with Perspective software provides exceptional ease-of-use with intuitive workflows in a compact form. Features include:
Automatic Calibration
Self-Leveling
No Targets or User Interaction Required
Easy to Transport
Export Directly to Industry Standard File Formats
Increase Field to Office Productivity with Helpful Annotations and Scan Labels The Trimble X7 3D scanner combined with Trimble Field Link can help you achieve a variety of tasks including:
As-Built Verification
Renovations and Tenant Improvement Projects
Laser Layout
Floor Flatness Verification
Scan to BIM
Prefabrication Skid QA/QC
Precast Set-Up Verification
Post Tension Cable Verification
Deformation of Concrete/Steel Beams and Columns
Underground Utilities
Facade Studies
The X7 is safe and effective to use in public buildings to create as-built models for scan to BIM and for renovations.
Trimble X7 Scanning System - Overview