What is a Robotic Total Station?
A Robotic Total Station (RTS) is an electronic/optical instrument used to measure both vertical and horizontal angles and the slope distance between the RTS and a particular topographical point. Using electronic distance measurement (EDM), and an onboard computer to collect data and perform triangulation calculations, this highly accurate location tool is used in the surveying, building construction, mining, and meteorology industries. General Contractors as well as mechanical, electrical, and plumbing professionals use this precision tool to translate design measurements to the field.
Benefits:
Robotic total stations allow the operator to control the instrument from a distance via remote control. A task that historically took 2-3 operators is now a one-man operation—reducing human error, saving time, optimizing labor usage, and ensuring a digital recordkeeping of all layout points.
Robotic Total Stations are easy to use, intuitive, time-tested tools that guarantee layout accuracy.
Robotic Total Stations are a significant advancement in layout means and a standard tool for contractors who need fast, reliable, accurate layout measurements. 
Uses:
Stake out designed penetrations on vertical construction decks.
Work with BIM models to accurately locate and install parts for construction.
Scan as-built conditions capturing the x,y,z (N,E,EL).
Plumb steel in relation to the building grid.
Automate the riskiest aspects of construction layout.
Field Layout Hardware
Increase the efficiency and reliability of all your jobsite layout tasks and measurements with workflows specifically built for contractors.
Measurement Made Easy
Learn the many ways the Robotic Total Station can help contractors increase the efficiency and precision of layout.
Trimble Ri Total Robotic Station
Expanded range and various zoom levels plus new side-to-side search pattern for quick-lock onto prism, saves time when searching for a target.
Key Features:
Level Detection & Monitoring
Built-in Calibration
Focusing Red Laser EDM
Trimble Vision Technology
Upgradable Instrument
FieldLink Integration
Specifications by Model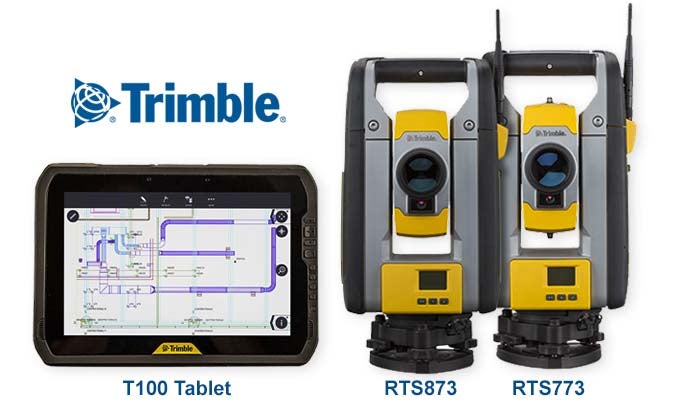 Choose your Trimble RTS
|   | RTS873 | RTS773 | RTS771 | RTS573 |
| --- | --- | --- | --- | --- |
| Swap between active and passive tracking | ✔ | ✔ | ✔ | ✔ |
| Set the optical focus for quick manual aiming | ✔ | ✔ | ✔ | ✔ |
| Trimble Multitrack | ✔ | ✔ | ✔ | ✔ |
| Long-range laser measurement for checking installs | ✔ | ✔ | ✔ |   |
| Laser measurement auto-corrects uneven surfaces | ✔ | ✔ | ✔ |   |
| Visual Verification | ✔ | ✔ | ✔ |   |
| Layout with live images using video-assisted measurement | ✔ | ✔ | ✔ |   |
| Autofocusing Green Laser | ✔ |   |   |   |
Specifications by Model
Downloads